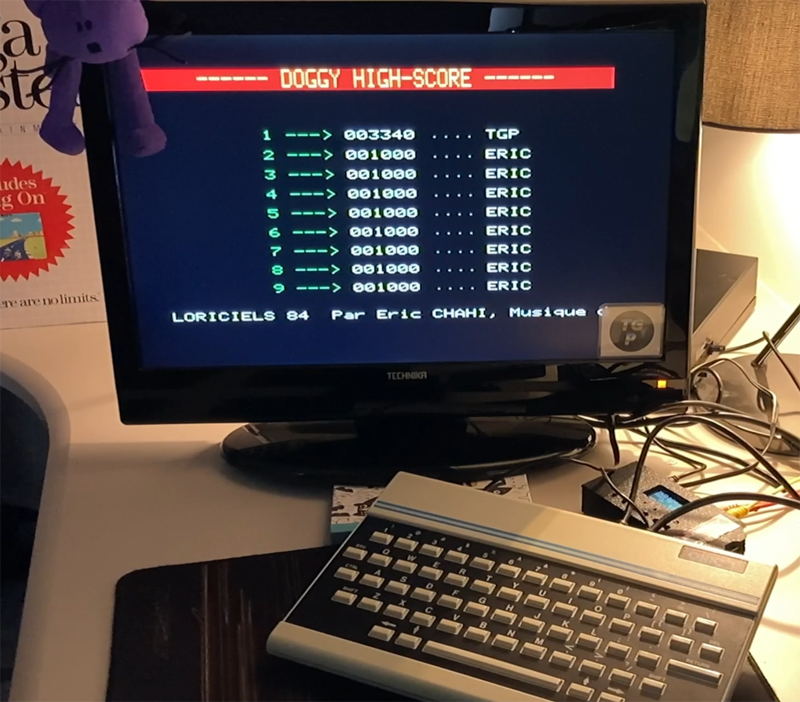 General Rules:
Game must be played on the actual hardware (Oric-1 or Oric Atmos). Play with default settings unless otherwise specified. No code modifications that give the player an advantage over other players. 1 credit. No continues. 1 player mode only. No use of trainers, cheats, auto-fire (when not default present in-game) , game saves, or cheat codes. Can be overruled by the Specific Rules.
It is discouraged and may lead to voters not accepting your score to
- excessively point farm
- use glitches or other game exploits
Specific Rules:
Play the game in 1 player mode with the Difficulty bar set at it's lowest level to the left (Facile).
Author of Another World, Eric Chahi, started his programming career on the Oric. Doggy was one of his games and was released by Loriciels in 1984. It's quite literally a 'runner' - not endless apparently, but I've never made it to the kennel. The music is by Remi Grouzelle.

This run was made on the Easy (Facile) skill level, using an Oric-1 48K. The date of play was the 14th January 2023 and the score achieved was 3,340.

Time stamps:
00:30 High score table.
00:33 Showing skill level set at Easy (Facile).
00:40 Game start (Pret! = Ready!).
02:00 First life lost.
03:33 Second life lost.
05:51 Third life lost.
07:51 Fourth life lost.
08:48 Fifth life lost. Game Over! Final score 3,340 points.